MCL's Charity Race Night…… -
December 5, 2013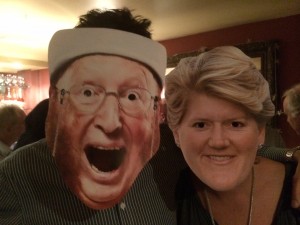 Metroworth Consulting (Europe) Limited are pleased to announce that their 2013 Christmas Charity Race Night was successfully held on Wednesday 4th December in Central London, and was very well attended by MCL Staff and contractors alike (plus the two celebrity attendees as featured).
Those that were able to attend helped to raise £142 which will be split 50/50 and donated to The Teenage Cancer Trust and Children in Need charities.
MCL's Company Director, Julian Winhall, would like to thank all who attended and also thank Ray Currier of Enterama for putting on such a great event.